Erie Angler Charters Fishing Charter Prices
Upcoming Availability -
Select a Date
Call to Get a Custom Trip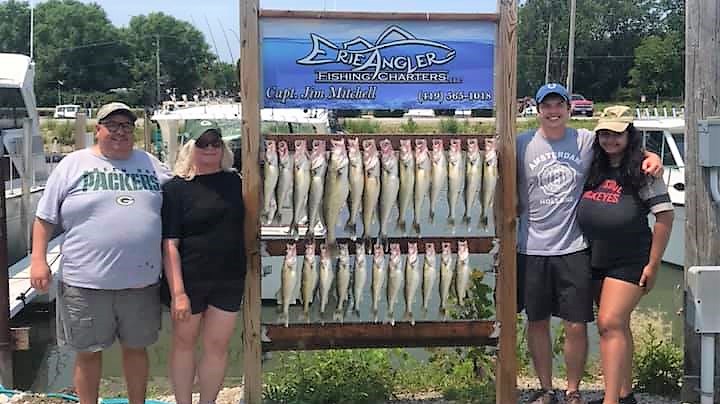 Available Times & Prices
7 hrs at 6:00 AM - $700
Experience Unforgettable Fishing on Lake Erie
Fishing - Lake

Fishing Boat:

Endeavor • 30' Baha Cruiser • Max 6 guests (base trip price includes 6 guests)
Target Fish:
Walleye
Description:
Are you ready for the ultimate Walleye fishing adventure in Lake Erie? Set aside 7 hours of your day and get ready to fish one of the Walleye capitol of the world. With the season running from April 9 to October 1, you'll have plenty of opportunities to reel in your prized catch. Imagine the thrill of the hunt as you cast your line into the crystal-clear waters of Lake Erie, surrounded by breathtaking scenery and abundant wildlife. Don't miss your chance to experience the thrill of a lifetime and catch your very own trophy Walleye in Lake Erie! Book your trip today!
Erie Angler Charters Fishing Trip Information
TRIPS ARE SCHEDULED FROM 1ST WEEK OF JUNE
Good to Know's
Balance Due In Cash or Check
Rods, reels, and tackles are provided.
Bring your favorite snacks and drinks to keep you energized.
Schedule a Trip Now!
We work hard to keep our calendar updated. Our schedule is the most updated information so please book online. We will contact you after to make your trip as positive an experience as we can.
If you have questions or want to talk to someone further, feel free to contact us directly, click here for our contact us information.
Common Questions:
How much does it cost to charter fish on Lake Erie?
Our fishing charters range costs $700 for a 7-hour trip and include 6 guests!
Is there good fishing in Lake Erie?
There is excellent fishing in Lake Erie, known for its abundance of Walleye and Perch. Erie Angler Charters offers guided fishing trips in Lake Erie, led by an experienced captain who knows all the best fishing spots, giving anglers the opportunity to catch big fish and create unforgettable memories on the water.
Do you need a license to fish Lake Erie?
A valid fishing license is required to fish in Lake Erie, and Erie Angler Charters does not cover the cost of fishing licenses. Anglers are responsible for obtaining a valid fishing license prior to their fishing trip with Erie Angler Charters, and the captain can provide guidance on how to obtain the necessary permits and licenses.